It's easy to get actionable insights and real-time alerts when you transform your video feeds into powerful data with Kibsi
Transform your business with Kibsi
Welcome to Kibsi, the all-in-one no-code computer vision platform that helps businesses transform raw video footage into actionable insights. 
At Kibsi, we're all about unlocking the hidden value of your video feeds, providing you with a whole new level of understanding of your operations. From real-time alerts to trend analysis and so much more, here's how it works!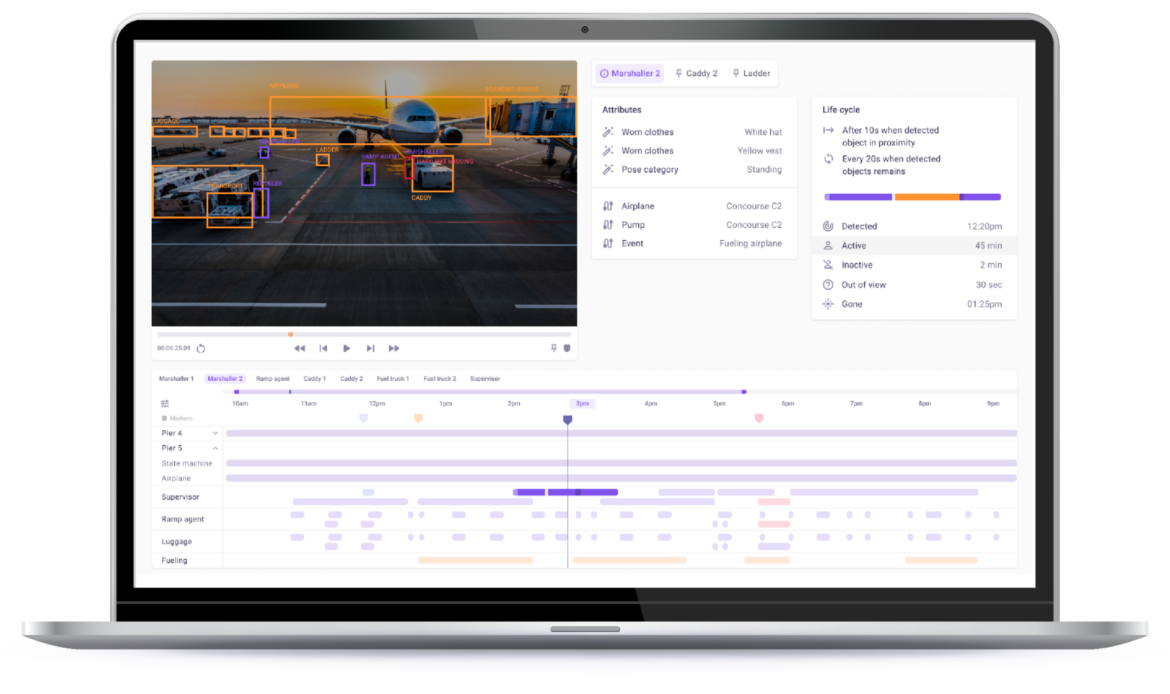 What can Kibsi do for you?
Data is king. But to rule your domain you need insights that only Kibsi can provide. Using the power of AI and machine learning, Kibsi takes your existing video systems and supercharges them.
Whether it's a bustling airport or a busy factory floor, Kibsi transforms your video cameras from simple recorders into AI-powered analysts. Get real-time insights into customer behavior, track product movement throughout a warehouse, enhance safety and more. You'll say goodbye to data gaps and hello to actionable, AI-driven insights.
Kibsi was built to have purpose and value – it's not just another pretty set of tech. Imagine a platform that is so flexible that it acts like another set of eyes all over your business. With thousands of possible use cases in dozens of industries, the sky's the limit.
Other computer vision approaches typically require months or years of complex projects full of consultants and custom coding. It hurts just thinking about it!
Kibsi has streamlined the process with the goal of making computer vision accessible to anyone. With an incredible user experience, robust built-in features, and a truly scalable infrastructure, Kibsi can be deliver brand new valuable insights in minutes for your business.
You can transform your business with Kibsi in 5 simple steps.
With 100s of possible use cases for Kibsi, the hardest part will be deciding what to create first. Consider the business drivers and potential return on investment as well as video camera location and suitability for what you want to alert on or measure. Here are a few of our favorite examples:
Your video feeds to Kibsi
Don't worry about outdated hardware or expensive upgrades. Kibsi works with the technology you already own. Your existing video cameras can be connected to our platform effortlessly, converting them into smart analytic tools.
Apps with models that truly see your business
There is no one-size-fits-all when it comes to computer vision. Your business is different…unique. But, luckily there are a lot of common objects in the world so you never have to start from scratch. Our drag and drop app builder means you can detect, connect, and compose to your heart's content.
Your Kibsi app to one camera or 1,000
Once you've connected your video feeds and created your application, you're ready to go live. Kibsi provides you with the flexibility to deploy your application across any number of cameras.
Only want to monitor for trucks in the loading bay area? No problem! Just draw static region boxes on each video feed so that your apps know exactly where to look. Easy!
Real-time alerts, powerful insights, and more
The real power of Kibsi's computer vision is what you do with the incredible data you're getting. For time critical events or safety issues, you might want to generate an immediate alert that's sent to worker.
To better understand how your business is operating, perhaps you'd prefer some analytics. You can even use Kibsi to trigger events in other application or equipment. In short, actions speak louder than data!
Get results fast with Kibsi Instant Apps
These pre-built, easy-to-connect apps are tailored to address specific business challenges our customers often encounter. Unleash the potential of real-time monitoring and reporting – all at your fingertips.
Kibsi works with your existing camera installations so you can quickly and easily turn your video feeds into actionable insights. Plus, with multi-camera support you'll be able to see your business from every angle.
A cutting-edge computer vision platform
Unlock a realm of possibilities with Kibsi. Seamlessly integrate our smart vision platform with your existing systems, whether you're a business enhancing the cameras you already have or a developer enriching your applications. Our intuitive APIs and streamlined tech ensure a smooth, limitless creation experience for everyone.